If shopping is what you like to do on vacation, you're in for a treat! Hendersonville has antique stores, galleries, local artists and crafters and many unique boutiques. We have some real factory outlets and a factory outlet mall.
Don't miss some of my favorite places while you are here.
Walking Distance
Honeysuckle Hollow
1536 Haywood Rd, Hendersonville, NC 28791
(828) 697-2197
www.honeysucklehollow.com

.5 Mile (15 minutes walking, 5 minutes by car)

This little shop is really something special. Gifts, collectibles, clothing and accessories, jewelry, antiques, soaps, local crafts, unique children's things, ribbons, bags… just too many things to list. The shop also gift wraps beautifully. It is a long walk or a short drive from the cabin.

Walk up the hill, over the brook. Don't turn on Meadowbrook Terr. Stay straight up the hill on Clairmont Drive.
You will pass Orleans Ave.
There is a Little Library at the corner. Just take any book you want. You can keep them or I will bring them back if you leave them at the cabin. Don't worry if you want to keep the book. I bring them plenty.
If you walk down the next road, Kensington, you will have to walk on 191 about half a block.
If you take the next road, Druid Hills Ave, you will come up behind Honeysuckle Hollow.
Both roads have some really great historic houses.
It is about a half mile either way, a little over a mile round trip.

If you are driving, you can go through the neighborhood or turn right on US25, then right at the light on Haywood Rd/US191.
Honeysuckle Hollow is on the right.

There is plenty of parking.
Southern Chicks Market
1630 Asheville Hwy, Hendersonville, NC 28791
(828) 595-2530
www.facebook.com/southernchicksmarket/

.5 Mile (15 minutes walking, 5 minutes by car)

Southern Chicks Market is probably closer than Honeysuckle Hollow, but the walk isn't as pleasant, right down the highway. You might as well drive. There is plenty of parking.

Southern Chicks Market is the perfect place to shop for Farmhouse style accessories, furniture and… well everything. They have fabric, antiques, wrought iron and lots more. She puts her new things on Facebook, take a look!

If you are coming from Main Street Hendersonville, you will pass Southern Chicks Market on the right before you turn to get to the log cabin.

If you want to walk, I would take Meadowbrook Terr instead of the highway. It's a prettier walk. You go past a little wetland on the left across from the G. Florence Boyle House, one of the Tudor Revival houses in Druid Hills. It loops back to US25, then head right. There is a crosswalk to Southern Chicks Market on the other side of the road.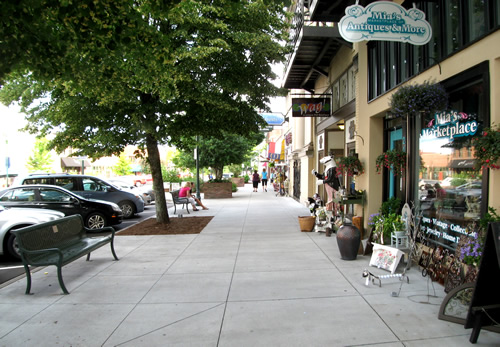 Historic Downtown Hendersonville
Downtown Hendersonville is only a mile and a half from the cabin. We have museums, restaurants, boutiques, galleries and craft stores, jewelry stores, antique stores, consignment stores and gift shops.

Hendersonville's Downtown is listed in the National Register of Historic Places. There is plenty of free parking on and off street. The sidewalks have benches, shade trees and flowers. Shop antique stores, galleries, art and craft shops, clothing and bead shops. There are also bakeries, ice cream shops, pubs and restaurants.
We have festivals downtown pretty often, too.
Historic Downtown Hendersonville >