The Pisgah National Forest has over 500,000 acres of mountains, waterfalls and forests.
Things to see in Pisgah Forest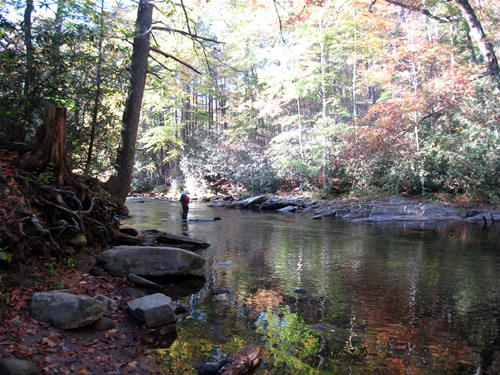 From the cabin, turn right in US-25. Follow the signs for US-64 West, toward Brevard in 16 miles you will come to the traffic light where US-64 meets US-280. You will go straight, which turns into US-276. This is the entry to the Pisgah National Forest. Over half a million acres of forest surrounding Mt. Pisgah. Pisgah National Forest traces it's history to George Vanderbilt, grandson of Cornelius Vanderbilt, the railroad baron. He purchased property at the Swannanoa and French Broad Rivers in western North Carolina surrounding his estate .
Looking Glass Falls is right off the road, with a pull-off.
Sliding Rock is a natural waterfall you slide down.
You can enjoy hiking, back-packing, camping, fishing, biking and mountain biking, horse-back riding, swimming, rock-climbing, waterfalls, viewing wildlife, exploring historical areas or just driving and looking out the windows of the car.