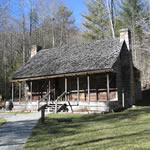 The Cradle of Forestry in America
America's first school of Forestry Historic Site
Open daily, 9 AM – 5 PM, from April 12 – November 9
The beginning of forestry conservation in the United States: Established by George W. Vanderbilt on Frederick Law Olmsted's advice when he built the Biltmore House, the school focused on teaching forestry skills and transforming what is now the Pisgah National Forest after extensive devastating logging practices.
More about The Biltmore Estate >
Admission to the Cradle of Forestry is $5 for adults and free for youth under 16. There is no charge for America the Beautiful and Federal Golden Passport holders. Admission includes the Forest Discovery Center with hands-on exhibits, a scavenger hunt, a firefighting helicopter simulator, Adventure Zone, historic cabins and antique equipment on two paved trails. Lunch is available for purchase at Hobnob at the Cradle.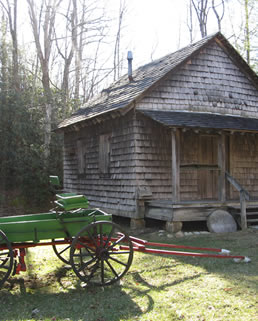 Forest Festival Trail
A 1.3 mile trail that combines history with current forest issues.
Explore past forestry and transportation methods and exhibits on how plants grow and decomposition.
Dr. Schenck's forestry experiments
Antique portable sawmill
Restored 1915 Climax logging locomotive
Climb aboard and ring the bell!
Biltmore Campus Trail
A one mile trail that winds through the Biltmore Forest School campus.
See how the first American forestry students and their families lived and learned in the early 1900's.
One-room schoolhouse
General store
Original cabins
Blacksmith shop
Garden
Forest Discovery Center
Explore with movies, hands-on exhibits and The Giving Tree Gift Shop.
Changing Climate, Changing Forests
Interprets climate change as it relates to forests and what Southern Research Station scientists are learning.
Fire in the Forest
Traces fire's use as a tool from American Indians to today's land managers.
Virtual Firefighting Helicopter Ride
Experience a new firefighting helicopter "ride". Ride with firefighters aboard a helicopter on their way to a roaring fire in the wilds of Idaho in the Forest Discovery Center Exhibit Hall.
Live Amphibian Habitat
Peer into a live amphibian habitat in the exhibit hall.
Gallery in the Woods Art Exhibit
Painting Western North Carolina by the Mixed Nuts plein aire (outdoor painters) artists, will be on display through the end of May.
Landscaping Demonstration
Observe native landscaping demonstrations that sustain the interdependence between pollinators and plants.
Seasonal Demonstrations & Displays
At various times during the season, living history volunteers will demonstrate wood carving, fiber arts, blacksmithing and making candles, corn husk dolls and brooms.
The Giving Tree Gift Shop at the Cradle
Unique creations, forest related books, maps, gifts and snacks.
Hobnob at the Cradle
Casual Appalachian gourmet fare.
Open for lunch on weekends only in April and 7 days a week beginning May 1.
Salads, soup, paninis, Poboys and local Everett Farms hamburgers.
Directions to the Cradle of Forestry from Meadowbrook Log Cabin

Meadowbrook Log Cabin is about 40 minutes from The Cradle of Forestry.
Take US-64 west toward Brevard.
In 16.8 miles you will come to a red light intersection.
Continue Straight on US-276. (US-64 will make a left turn.)
You will enter the Pisgah National Forest.
In 11.2 miles you will see the Cradle of Forestry on the right
More about the Biltmore House >