The Art Loeb Trail by the Davidson River Campgrounds is a really nice walk.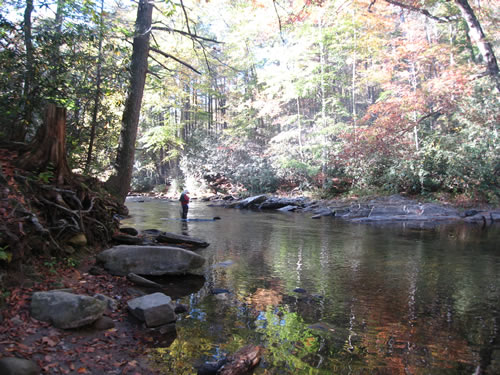 The whole Art Loeb Trail is really long, thirty miles. But, you don't have to hike the whole thing.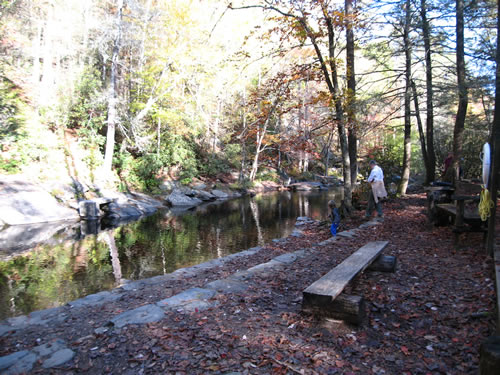 You can get on this trail at a number of places through the park. One end is at Davidson River Campground. The other end is at the Daniel Boone Boy Scout Camp in Haywood County.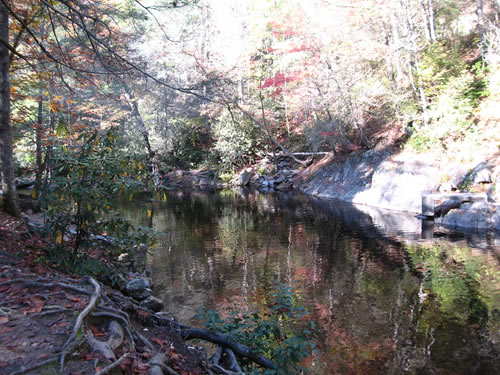 You have to pay to get into the Davidson River Campground, but there is free parking for the Art Loeb Trail and you can walk next to the river, fish or put your tube in here.
Directions to The Art Loeb Trail from Meadowbrook Log Cabin
There are more places to start the trail, but this is how to get to the parking area at Davidson River Campground.
Turn right onto US-25 toward town.
Turn right on US-64 West toward Brevard.
Just stay straight for about half an hour.
64 turns, but stay straight. The road becomes 276 and enters the Pisgah National Forest.
In a couple of minutes, you will see the signs for Davidson River Campground.
If you get to the Ranger Station, you have just missed it.
Parking for the Art Loeb Trail is before the bridge.
Lock your car and put any valuables out of site.
If you continue on the trail, it goes over the mountains. Don't do this unless you are prepared, it takes 4 days. Really.
The Whole 30 Miles
The Art Loeb Trail follows the Davidson River. It continues along Looking Glass Creek where it meets Rock House Creek, then follows the ridge crossing the Blue Ridge Parkway at Wagon Road Gap.
You continue along the ridge, finally following the East Fork of the Pigeon River.
The Art Loeb Trail goes over Black Balsam Knob – 6,214 feet, Tennent Mountain – 6040 feet and Pilot Mountain – 5095 feet.
The trail goes along the base of Cold Mountain. This is the same Cold Mountain from the Civil War book by Charles Frazier. "W. P. Inman, wounded Confederate deserter journeys home to Cold Mountain and the love of his life." Cold Mountain is located within the Shining Rock Wilderness. The Art Loeb trail is part of the Mountains to Sea & Mountains to Sea Alternate trails.