We don't fish, but we see people fishing around here all the time.
Anyone over 16 years old must have a North Carolina Fishing License to fish.
I looked this up. I don't know a lot about this.
Fishing in Pisgah National Forest
Fishing is permitted everywhere in the Pisgah National Forest. The Davidson River is known for excellent trout fishing. We have native brook trout and the fish hatchery stocks brown and rainbow trout.
People fish off the bridges. Fly fishermen are out in the river.
You should ask at the Ranger Station or a bait store where to catch what.
Directions to The Ranger Station from Meadowbrook Log Cabin
Turn right onto US-25 like you are going to Hendersonville.
Turn right on US-64 West toward Brevard.
Just stay straight for about half an hour.
64 turns, but stay straight. The road becomes 276 and enters the Pisgah National Forest.
In a couple of minutes, you will see the Pisgah National Forest Ranger Station and Visitor Center on the right.
Fishing the French Broad River
The French Broad River is supposed to have good fishing for a largemouth and smallmouth bass, striped bass, catfish, crappie, musky, sunfish, brown trout, brook trout and rainbow trout. People fly fish or angle.
The headwaters of the French Broad River is on the other side of Brevard.  The river is really small there, but by the time it gets to Asheville, it is a huge river.
If you fish, you know what kind of waters you want to fish. Ask at one of the bait stores and they will tell you where to go.
Fishing Local Lakes and Ponds
Lakes around here have been stocked with largemouth bass since the 1800s. You can fish for their descendants. A lot of the lakes continue to be stocked. You can catch bass, bluegills, catfish, pike and whitefish.  Some of the lakes are quite shallow.
Fishing Lake Julian
Lake Julian Park is a family recreation park where you can fish. Lake Julian is a 300 acre cooling lake for Progress Energy. It is a "thermal" lake. The lake has a lot of bass, catfish, brim and crappie. It has been stocked with Tilapia.
There are fishing spots along the shore and there is a boat launch where you can put in a boat. There are Jon boats available for rent, but you have to have your own motor. There is a fee to use the launch.
There is a picnic area and a playground.
Directions to Lake Julian Park from Meadowbrook Log Cabin
Lake Julian Park
406 Overlook Rd Ext,
Arden, NC 28704
Turn left onto US-25 like you are going to Asheville.
Continue on US-25 for a little more than 10 minutes to Long Shoals Road.
Turn left on Long Shoals Road, just after the Exxon station.
This is a major intersection with a light.
Turn left onto Overlook Road, just after a little plaza with Pomodoros and Firehouse Subs.
There is a light and a small sign for Lake Julian Park at the corner.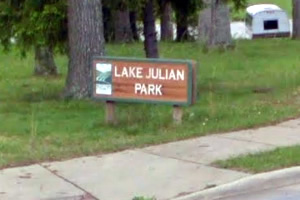 Fishing on Lake Lure
Lake Lure is a cool water lake. You can catch lake trout, chain pickerel, large and small mouth bass, white bass, catfish, yellow perch, sunfish, and crappie. It has been stocked with a lot of things in the past and the descendant fish are still in the lake. The town currently stocks the lake with large mouth bass, small mouth bass, white bass, and threadfin shad.
Directions to Lake Lure from Meadowbrook Log Cabin
Turn right on US-25.
Turn left on US-64.
Stay on US-64 for about half an hour.
In Bat Cave, stay on US-64 where it turns to the right toward Chimney Rock.
US-64 goes through the town of Lake Lure.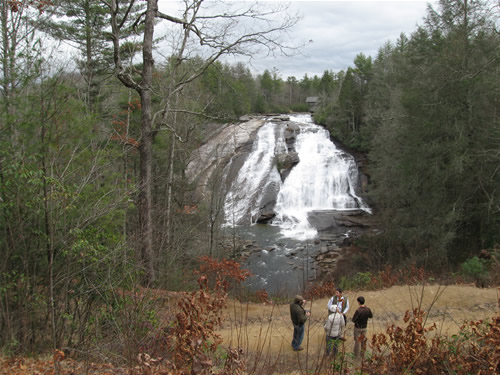 Fishing in Dupont State Forest
DuPont State Recreational Forest has five lakes and ponds, warm water streams and cold water streams.
Little River from Lake Dense to Hooker Falls is stocked with trout, but it is catch and release for trout from October through May.  You can keep anything you catch from June 1 through September 30. The rest of the streams in DuPont State Forest are classified as Wild Trout Waters.  To fish these streams, fishermen must buy a fishing license and a trout stamp, a special trout fishing license.
Fishing is prohibited within 300 feet of the top of all waterfalls.
Night fishing is prohibited.
Directions to DuPont State Recreational Forest from Meadowbrook Log Cabin
Turn right onto US-25 like you are going to Hendersonville.
Turn right on US-64 West toward Brevard.
In a little more than 15 minutes, just as you cross the county line, look for the light at the Triangle Stop gas station.
Turn left on Crab Creek Road.
Stay on Crab Creek Road about ten minutes.
Turn right on Dupont Road. There is a sign here.
There are parking areas all along for different walks, hikes and waterfalls.
The DuPont State Recreational Forest Visitor Center is further down, if you would like to start there.
There are way more places around here to fish. Ask around.