Mills River, not far from Meadowbrook Log Cabin, is one of the few places where Mudpuppies and Hellbenders live.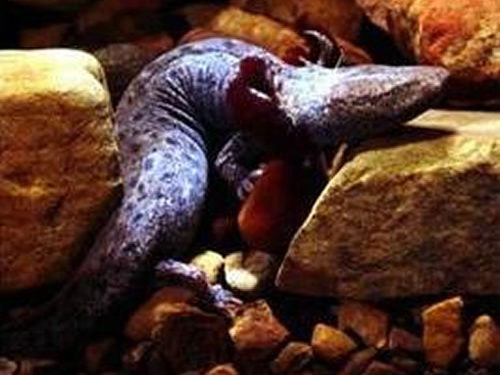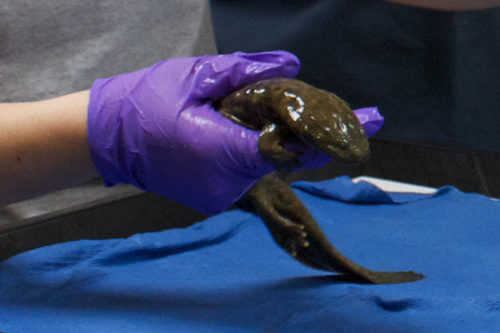 Mudpuppies and Hellbenders are really big salamanders. Hellbenders grow up to 30" long. Mudpuppies are nearly that long.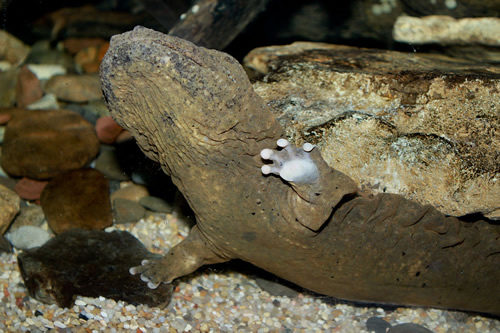 Hellbenders have four toes on the front feet and five toes on the back feet. Mudpuppies have four toes on each foot. Mudpuppies have visible outside gills. Hellbenders keep their gills on the inside.
They can both live to be up to fifty years old.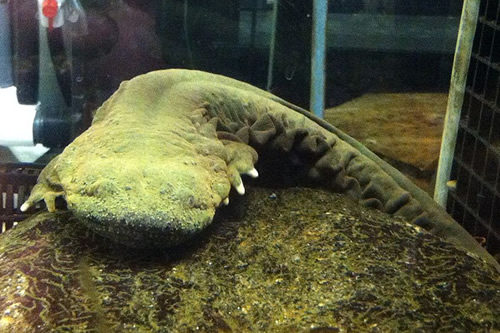 Don't go lifting rocks and bothering them to look for them. If you go looking for them, you'll never see them. But, if you are wading or fishing, you just might.
When I was about five years old, I caught one. I pulled up the fishing pole and it came swinging in toward me. Dad told me it was a mud puppy. It was a very disappointing puppy. Didn't look cute to me at all.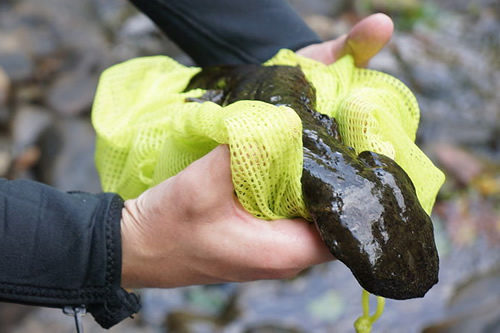 The Last Dragons – Protecting Appalachia's Hellbenders from Freshwaters Illustrated on Vimeo.
They are legally protected. It's illegal to collect, harm, harass or kill them.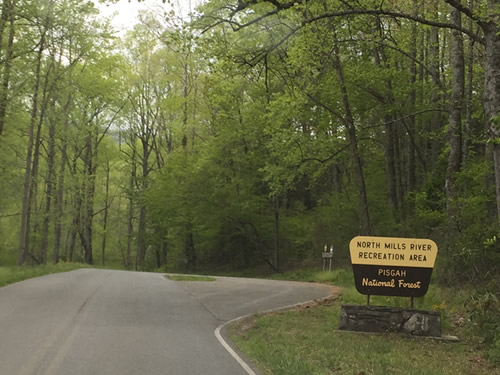 Directions to Mills River Recreation Area from Meadowbrook Log Cabin
Turn right on US-25, then turn right on NC-191 at the light.
In about 22 miles, turn right at the light to stay on NC-191.
Take the very next left onto North Mills River Road.
In five miles you will get to North Mills River Recreation Area.
You can also see a Hellbender and a lot of other animals at the Western North Carolina Nature Center.
Directions to Western North Carolina Nature Center from Meadowbrook Log Cabin
WNC Nature Center
75 Gashes Creek Rd
Asheville, NC 28805
There are a couple of ways to get there, but this is the prettiest in my opinion.
From the cabin, turn left on US-25.
In a little over eight miles, turn right onto the Blue Ridge Parkway.
In a little less than four miles, turn left onto US-74 ALT W toward Asheville.
Then turn right onto Swannanoa River Road
In a little over half a mile, you will see the sign for WNC Nature Center at Gashes Creek Road