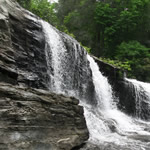 DuPont State Forest has 10,400 acres of forest, trails, and waterfalls in the Little River valley of Henderson and Transylvania counties.
Explore 80 miles of roads and trails through Western North Carolina mountains. Open to the public for hiking, mountain biking, and horseback riding. Discover waterfalls and incredible views. Scenes in Last of the Mohicans and The Hunger Games were filmed here. Free forest maps are available from Forest Service Staff and from volunteers in the forest.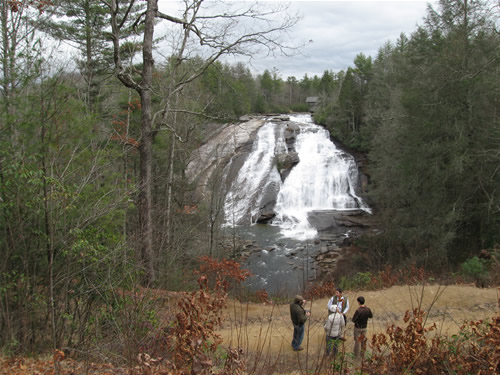 Waterfalls
There are 6 larger listed waterfalls and smaller ones to discover. Swimming and wading is allowed, but only in the areas below the waterfalls.
Bridal Veil Falls
Grassy Creek Falls
High Falls
Hooker Falls
Triple Falls
Wintergreen Falls
Mountain Biking
DuPont State Recreational Forest is a great place for mountain biking with easy forest roads and exciting mountain tracks. Rent Mountain Bikes. Sycamore Cycles has two locations http://sycamorecycles.com/
Horse Back Riding
All trails are open to horses except for Triple Falls Trail from the picnic shelter to Staton Road and a few foot trails that are clearly marked.
Nearby Shoal Creek Farm offers DuPont Trail Rides.
Dogs
Dogs are permitted, but must be on a leash at all times.
Directions to DuPont State Recreational Forest from Meadowbrook Log Cabin
Turn right onto US-25 like you are going to Hendersonville.
Turn right on US-64 West toward Brevard.
In a little more than 15 minutes, just as you cross the county line, look for the light at the Triangle Stop gas station.
Turn left on Crab Creek Road.
Stay on Crab Creek Road about ten minutes.
Turn right on Dupont Road. There is a sign here.
There are parking areas all along for different walks, hikes and waterfalls.
The DuPont State Recreational Forest Visitor Center is further down, if you would like to start there.