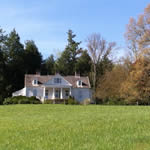 Carl Sandburg Home National Historic Site
Connemara Farms, the home of Pulitzer Prize-winning poet and writer Carl Sandburg
Open daily, 9 AM – 5 PM
Home of Poet and Author Carl Sandburg and Goat Dairy of his wife, Paula Sandburg. 264 acres of pastures, ponds, small mountains, hiking trails and fifty structures.
Admission to the grounds, trails, barns and outbuildings is at no charge. Donations are accepted at a box near the parking lot. The house tour is $5.00 for Adults 16 and older and $3.00 for seniors 62 and older. Children 15 and under are admitted free. There is no charge for America the Beautiful and Federal Golden Passport holders.
Accessibility
If you are unable to walk to the main house, call for assistance on a phone at the parking lot or at the information station.
Guided House Tour
30-minute house tours are offered every day, once an hour. The first tour begins at 9:30am with the last tour at 4:30pm. Tours are limited to 15 persons, no reservations, first come.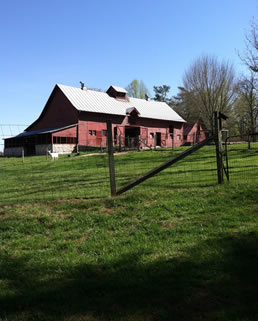 Goat Dairy
Paula Sandburg owned and operated a premier goat dairy from 1935 to 1965. Visit three breeds of goats. Park rangers and volunteers will introduce you to the herd and answer any questions. In Spring, see the new baby goats!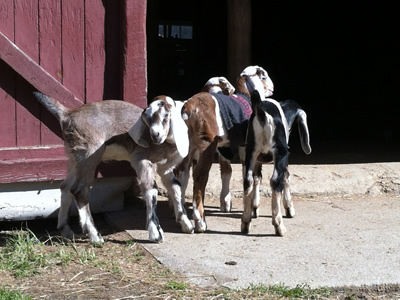 Trails
There are five miles of well-maintained trails.
Trail to Main House .3 mile
Leaves from the parking area, Information Station and Restrooms and crosses the dam from the front lake and follows the original entrance drive past Margaret's Garden and the Gazebo to the Main House
Trail Around Little Glassy Mountain .8 mile
From the back of the Main House over the rock outcropping
Trail over Little Glassy Mountain .4 mile
From near the Pumphouse and Wood Shed through the Woods
Memminger Path to Glassy Mountain 1.2 miles
From near the Wood Shed and Greenhouse through the Woods
Spring Trail to Trout Pond .1 mile
From the Vegetable Garden and Goat Sheds
Trail from Main House .5 mile
Meanders from the back of the Main House past the Goat and Donkey House and Amphitheater back to the parking area
Carl Sandburg
Carl Sandburg is the author of several volumes of poetry. You are probably familiar with at least some of them; Chicago, Fog, Grass or Arithmetic. He wrote two biographies of Abraham Lincoln and one of Mary Lincoln. He wrote a number of children's books including the Rootabaga Stories and Abe Lincoln Grows up. He won three Pulitzer Prizes, two for his poetry and one for his biography of Abraham Lincoln.
Carl Sandburg was perhaps the first American urban folk singer, accompanying himself on guitar at lectures and poetry recitals. He began collecting American folk songs when he was 19 years old. He published three song collections which became very popular. He would entertain audiences after poetry recitals with these songs. He was awarded a Grammy Award in 1959 for his recording of Aaron Copland's Lincoln Portrait with the New York Philharmonic.
Lilian Paula Sandburg
Lilian Paula Sandburg was a Phi Beta Kappa graduate of the University of Chicago and became a school teacher. In the early 1900's Charles and Lillian, in their 20s were active in the Social-Democratic party. They began to correspond, sharing their poetry and discussing politics, philosophy and art. They married in 1908. She preferred Carl, his birth name and he called her Paula. In 1935, to make ends meet, Paula Sandburg began raising goats. She began to research the benefits of goats milk and breeding for milk production.
Lilian Paula Sandburg was sister to Edward Steichen, an American photographer, painter and art gallery and museum curator. He was the best known and highest paid photographer in the world, taking the first modern fashion photographs.
Connemara
In 1945, Carl Sandburg and his wife moved to Flat Rock where they lived the next 22 years. Connemara is one of the best-preserved writer's homes in America.
"The home's original owner, Christopher Gustavus Memminger, christened the structure as Rock Hill in 1838. An orphan born in Germany, Memminger was raised by Thomas Bennett, who later became governor of South Carolina. Memminger was such a success as a lawyer that he amassed the funds to build Rock Hill by the age of 35. When the Civil War broke out, he chaired the committee that drafted the Confederacy's constitution. Jefferson Davis appointed him secretary of the treasury, a position from which Memminger organized the entire financial structure of the new country. But such responsibilities took their toll. After three years on the job, Memminger was forced to resign because of poor health. He retired to Rock Hill but kept in touch with his colleagues. When it appeared that Richmond, Virginia was in danger, he wrote several leaders suggesting that they move the Confederate capital to Flat Rock, which could be defended more easily. Legend has it that Jefferson Davis sent the Provisional Seal of the Confederacy to Memminger in Flat Rock when it became evident that Richmond would fall. The seal has never been found. Some say Memminger buried it on Glassy Mountain behind Rock Hill."

Touring the Western North Carolina Backroads by Carolyn Sakowski
Directions To the Carl Sandburg House from Meadowbrook Log Cabin

Meadowbrook Log Cabin is about 10 or 15 minutes from Connemara.
Turn right on US-25 and go south through town toward Flat Rock.
You can take Main Street or Church Street south. Main and Church merge.
At the light in front of the Fresh Market (on the left), stay in the far right lane.
Through the light stay to the left, on US-225. The right lane turns off.
Continue for 2.5 miles.
Turn on Little River Road, just past the Flat Rock Theater. The road is marked.
The parking area is just to your left, clearly marked.