This is a white squirrel on the porch at Meadowbrook Log Cabin.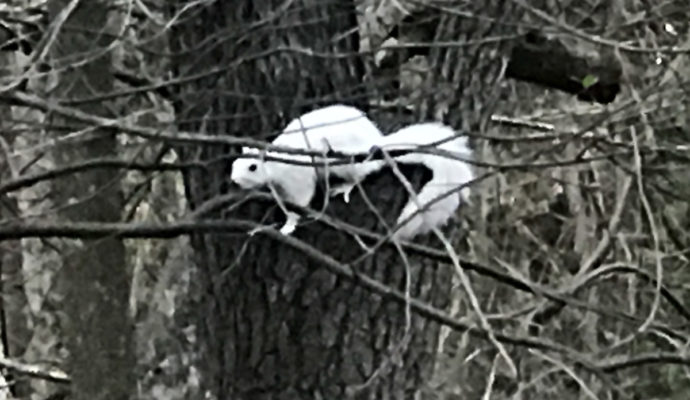 Druid Hills has quite a few white squirrels now. There seem to be more every year.
I first saw white squirrels when my grandparents moved to Maple Street in Brevard in the 1970s. I was surprised when I moved back to the area to see them here in Hendersonville.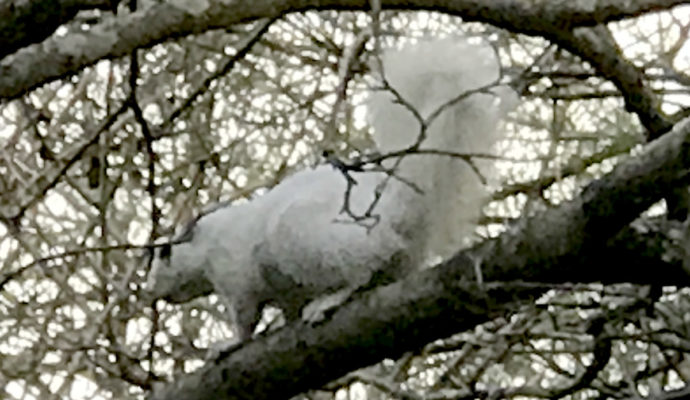 Back in the 70s, I was told that the white squirrels in Brevard descended from squirrels that escaped from a circus train that crashed. That story wasn't true.
Later I heard that in the 1950s, somewhere near the Georgia/Florida state line, a traveling carnival zoo hit a ditch and some of the animals got away. Escaped white squirrels took up residence in a pecan grove and soon the grove was full of white squirrels. Someone caught them and gave them to a little girl in Brevard as pets.
That fits in better with the story from Barbara Mull Lang. She grew up on the corner of Caldwell Street and King Street in Brevard.
When she was ten, her uncle gave her two white squirrels. He told her they were escaped circus squirrels from the pecan orchard of a Mr. Black. They did not think the white squirrels would make it in the wild, so Barbara's father, W. Edgar Mull, built a large enclosure for them to live in the back yard.
She named her little white squirrels Snowball and Snowflake. Snowflake was very animated, so she changed his name to Frisky. The Mull family cared for and protected the squirrels, but were never able to tame them.
When the Mull family moved, the squirrels went to live with Barbara's aunt on Johnson Street, a short street off Maple Street, where I saw the white squirrels when I was little. One of the squirrels got out of the cage, so they let the other one go.
By the time my grandparents lived on Maple street, there were lots of white squirrels. And now, there are white squirrels all the way over to my log cabin in Hendersonville.
Barbara Lang turned the story into a book. The book is self-published.
She sells it here: www.brevardwhitesquirrels.com and here www.whitesquirrelshoppe.com