All of the TVs have Over-the-Air HD TV.  We put an outdoor Multi-directional antenna on the roof of the 2-story farmhouse next door. We added a Rotator and Controller.  We get a very good signal and can watch local programming, sports and news. We get three CBS HD channels, three ABC HD channels and three PBS HD channels plus a bunch of other things I never watch.  We get some other channels, but they have some interference.
If you want to look up something specific, you can see a TV Guide here:
www.nocable.org/tv-listings/zip/28792-hendersonville-nc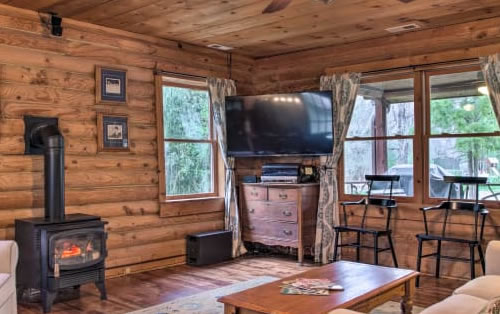 The living room and master bedroom have Blu Ray, DVD and VHS players and Over-the-Air HD TV.
The Smart TVs can connect to any of your accounts, YouTube, Hulu, Netflix, Amazon Prime, Sling or any other Subscription service you already have.  The living room has a Bose Home Theater system with a 55″ High Definition LED TV, a Bose Lifestyle-25 Full Surround 5.1 Audio system with iPod Dock and USB inputs.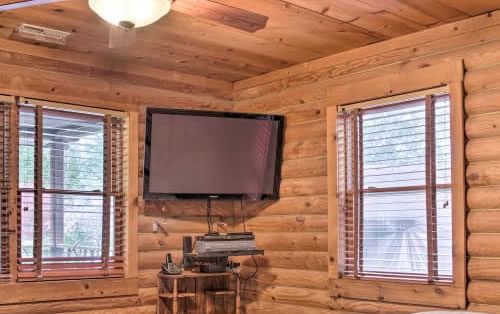 The master bedroom has a Samsung 55″ High Definition Plasma TV, HD BluRay/DVD Player and a VHS player.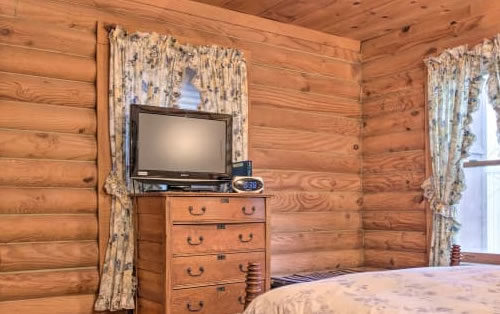 The guest bedroom gets Over-the-Air HD TV and has a 27″ High Definition LED flat screen TV with a built-In DVD player.
We have an assortment of Blu-ray and DVD movies and TV series and some old favorites still on VHS. You can find them in the drawers under the TVs.
There is a Red Box across at the Ingles.