Jump Off Rock is a scenic overlook with three hiking trails. The drive is up a mountain through a forested historic community. Admission is free. There are no facilities. Jump Off Rock is a favorite place to watch the sun set.
Jump Off Rock is at the top of Jump Off Mountain. It overlooks the Pisgah and Blue Ridge mountains. There is no fee.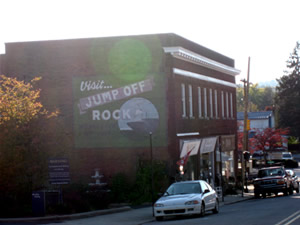 The drive through Laurel Park is especially beautiful from May till Mid-June when the Rhododendron, Azalea and Mountain Laurel are in bloom.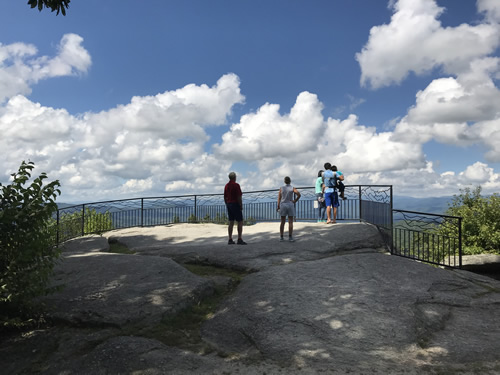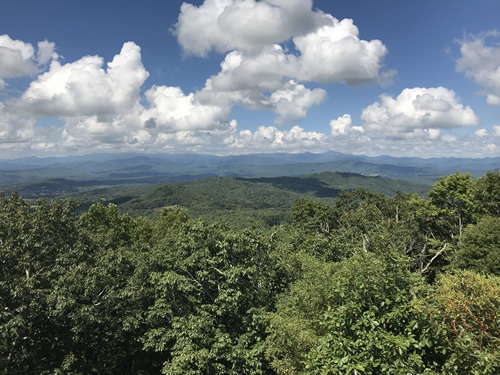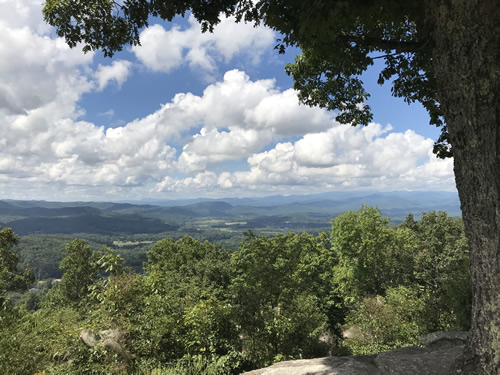 The view is absolutely amazing. You can see to the State Line in one direction and to the Biltmore Estate and the Airport the other direction. You can see the Blue Ridge and Pisgah Mountains in the distance.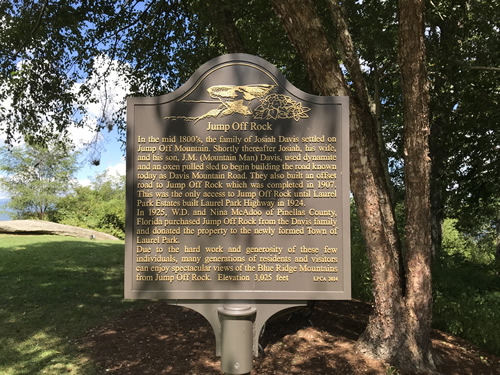 Jump Off Rock

In the mid 1800s, the family of Josiah Davis settled on Jump Off Mountain. Shortly thereafter Josiah, his wife and his son, J. M. (Mountain Man) Davis, used dynamite and an oxen pulled sled to begin building the road known today as Davis Mountain Road. They also built an offset road to Jump Off Rock which was completed in 1907. This was the only access to Jump Off Rock until Laurel Park Estates built Laurel Park Highway in 1924.

In 1925, W.D. and Nina McAdoo of Pinellas County, Florida purchased Jump Off Rock from the Davis family and donated the property to the newly formed Town of Laurel Park.

Due to the hard work and generosity of these few individuals, many generations of residents and visitors can enjoy spectacular views of the Blue Ridge Mountains from Jump Off Rock.

Elevation 3025 feet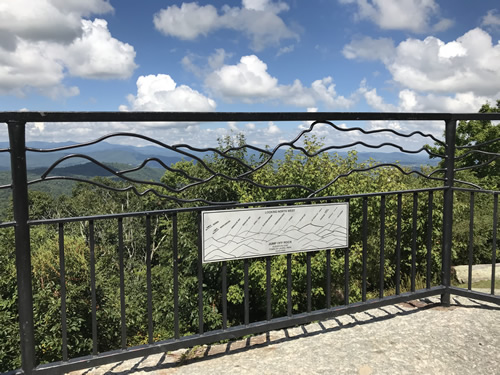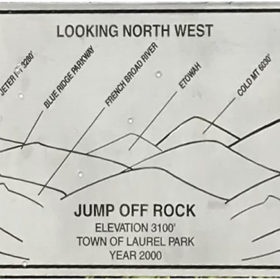 There is a sign to help you get your bearings. Or bring a GPS to figure out what is in each direction.
There are benches. Sometimes you see artists painting here.
Hikes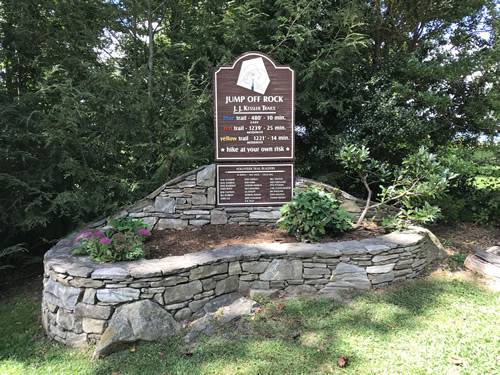 There are three hikes.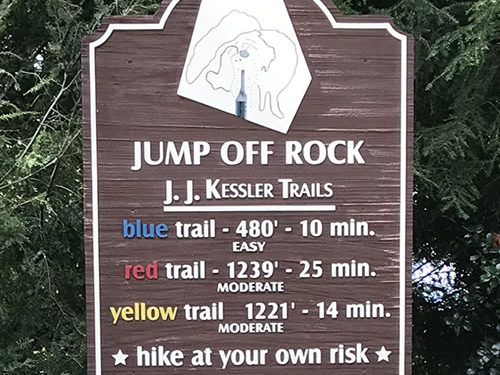 Blue Trail – 480′ – 10 minutes – easy
Red Trail – 1239′ – 25 minutes – moderate
Yellow Trail – 1221′ – 14 minutes – moderate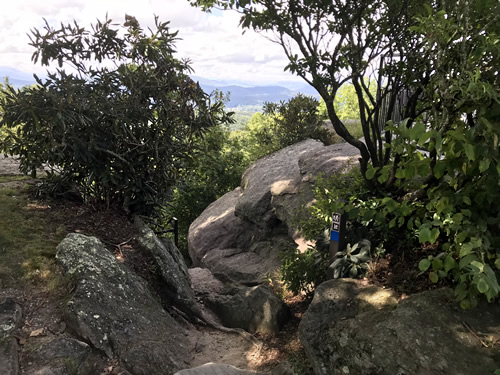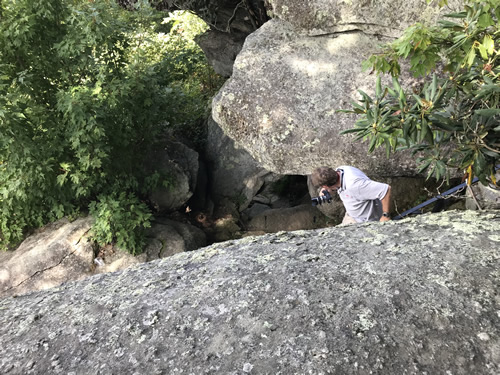 We are only a couple of miles from Jump Off Rock, but it takes nearly 20 minutes to drive there.
Directions to Jump Off Rock from Meadowbrook Log Cabin
There are a couple of ways to get there. The easiest directions are:
Turn right onto US-25 toward town.
Turn right on 5th Ave West.  Stay on 5th Avenue. It becomes Laurel Park Highway. The road forks a few times, but there are signs letting you know which way to Jump Off Rock.
You will pass the signs to Rhododendron Lake Nature Park on the way.
Laurel Park Highway ends at a small parking area for Jump Off Rock.