We have some real factory outlets and an outlet mall.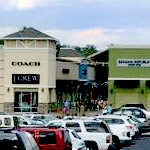 Asheville Outlets
The new outlet mall is already great and still growing! We've gotten some great buys there.
From the cabin, turn left on US-25/Main Street
Take the ramp to the left onto I-26 toward Asheville
In a little less than 11 miles, take Exit 33 to NC-191
Turn left, the mall will be on the left
800 Brevard Rd (NC-191)
Asheville, NC 28808
Dillard's Clearance Center
This feels like an acre of men's and women's clothing and some housewares.
All of the Dillard's stores send their Clearance items here. They keep marking them down until they sell. They best discounts start on Friday and run through the weekend, but the dressing rooms can get long lines and they don't accept returns. So, the best day to shop is for sure early on Friday. This is now part of the Asheville Outlets
Michaelian Home Outlet Store
Just walk out the front door, cross the street and this is at the end of the block on the left.
Rugs, Pillows, Travel Bags, Coverlets, Table Runners
225 7th Ave E
Hendersonville, NC
(828) 697-7659
www.michaelianhome.com
Mountain Rug Mills, Spinning Wheel Rugs & Factory Store
This is in the old factory building right across from Michaelian Home Outlet Store. This is not what you think of when you think factory outlet. It is a factory that makes handhooked, braided, machine tufted and hand overtufted rugs that you can buy directly from the factory. When I stopped in they had some rugs you could buy, not that many. You can order custom rugs from them. Mountain Rug Mills rugs are in the private dining room and the the diplomatic conference room at the Whitehouse.
609 N King St
Hendersonville, NC
(828) 698-0410
www.mountainrugmills.com
Burke's Outlet
Take 64 East. Turn on Thompson St., between Taco Bell and Bojangles.
Up to 90% off name brand and not so name brand clothing, shoes, jewelry cosmetics, menswear, everything.
204 Thompson St
Right next to the Big Lots
Hendersonville, NC (828) 693-1844
Stein Mart
Take Church Street, as you leave the downtown area Steinmart is in the plaza with the Fresh Market.
This isn't really an outlet, but they have great buys on brand names. The entire center of the store is often a clearance area.
213 Greenville Hwy
Hendersonville, NC 28792 (828) 696-3830
Bon Worth Factory Outlet
Follow US-64 East
Just as you go over the I-26, make a left onto Francis Rd.
The road wraps past Needful Things Antique Mall.
The Outlet is past it on the right side of the road.
A Day in the Country
Follow US-64 East
Turn right at NC-1897/Sugarloaf Rd right past the interstate.
This is a great place for lunch, has gifts and a factory outlet in the basement. 130 Sugarloaf Rd
Hendersonville, NC 28792
(828) 692-7914
The World Of Clothing
Carhartt, Medical Uniforms and rus and more. Not my favorite, but other people love it.
It's just past A Day in the Country on the other side of the road.
135 Sugarloaf Rd
Hendersonville, NC 28792
(828) 693-4131
Bloomfields Dish Barn
Dinnerware from Fiesta, Spode, Lenox, Johnson Brothers, Wedgewood and more, Krups, OXO, Le Creuset, Lodge, Nordic Wear, gifts, gadgets, outdoor and garden items, honeys, jellies, lots And lots of things. Pricing is iffy. Sometimes you hit it.
I-26 toward Spartanburg
3.4 miles to exit 53 (Upward Rd)
196 Mcmurray Rd, Flat Rock, NC (828) 693-3350
Foam & Fabric Outlet
A fantastic selection of upholstery fabric, quilting supplies and fabric and cloth for children and women's fashion sewing. But the best thing is Bedding by the pound. You gotta hit it, but often you can find some real deals. This place is awesome! I can't believe the deals that they have on name brand bedding like Tommy Hilfiger, Spiegel and others.
Head toward Asheville. Stay on US-25 about 20 minutes.
You'll see the Mountain 1st bank on the right, then a little used car dealer. The outlet is up a steep drive on the left. If you miss it, you can turn in at the light, but the parking is not as easy from that direction.
3049 Hendersonville Rd
Fletcher, NC (828) 684-0801
GB Shoe Outlet
These are all over the place, so you may have been to one before. They have a great selection. They even stock wide and narrow sized shoes.
There are lots of boots, too. The entire back wall is the Clearance area and you can get some incredible deals here.
Take US-25/Main Street toward Asheville.
The Outlet will be on the right in a little over 5 miles before the ramp to I-26.
5418 Asheville Hwy, Hendersonville, NC 28791
The Frugal Backpacker
Kayaks, tents, backpacks, sleeping bags and other camping supplies and clothing, vendor samples and closeouts.
Take US-25 toward Asheville.
Cross over the ramp to I-26.
The Outlet will be on the left.
2623 Hendersonville Rd, Arden, NC 28704